Flag Football Information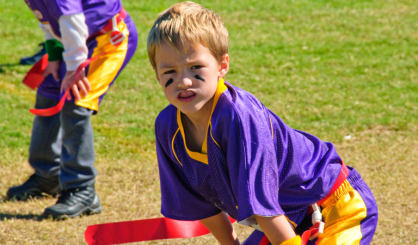 Flag Football
2021 Indoor Flag Football League at Family Sports Center
NFL Flag football is a fun and exciting sport played year-round. It's always fun and open to boys and girls ages 6-13.
NEW players that sign up for NFL FLAG football receive
NFL team branded reversible jersey
NFL flag football belt
USA football insurance membership
SEASON November 5th, 2021- January 21st, 2022 regular season games played Fridays and Sundays starting about 5:00
All players or teams must register online first at www.familysportscenter.org by Oct 27, 2021 and then show up first game with $100 or $125 cash or check payable to Family Sports Center. (NO PLAYER EVALUATION THIS SESSION) Coaches Draft.
If interested in Head Coach or Assistant coach for the season please contact Troy Mohney at coachtroy@familysportscenter.org
PLAYING FIELD is located at the Indoor field at Family Sports Center 542 Evans City Road Butler PA 16001
COST $100 per player includes
All registration this season is by individual sign ups only
8 games played within a 55 minute time slot.
(ADDITIONAL COST $25 per NEW player only)
NFL team reversible jersey
NFL flag football belt
USA football insurance
Any questions please contact Troy at coachtroy@familysportscenter.org